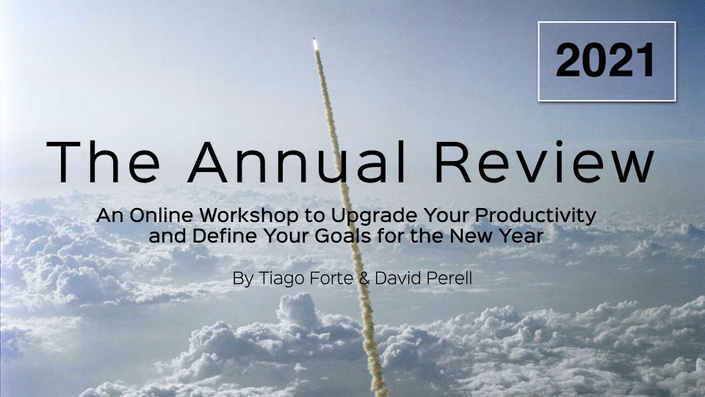 The Annual Review 2021
An Online Workshop to Reflect, Revisit, and
 Define Your Goals for the New Year
Watch Promo
The beginning of a new year is the perfect time to elevate your perspective and recalibrate your strategy for the coming year. High performers take this opportunity to update their systems, set powerful goals, and decide what their focus will be in the new year.

In The Annual Review, we take participants through a tried-and-tested, strategic process for defining their vision, setting their goals, and creating a plan to guide their year. We distill the thousands of ideas we've tested over more than 10 years of doing year-end reviews into a clear, coherent set of practices.

We'll provide all the instructions, templates, examples, and case studies you'll need to skip years of trial and error and complete your review in a single weekend. We'll show you how to reflect on the past year, and use the lessons you've learned to visualize and plan for the next year.
The workshop will take place online in 4 live video calls over two days, on Saturday, January 9th, and Sunday, January 10th. Here's the full schedule (click each link to see in your local timezone):
We'll help you customize your own Annual Review process, drawing on numerous examples and options we've collected over the years. Then you'll have two full days to work your way through the review you've designed, with a balance of personal reflection and group discussion time.
When it comes to year-end reviews and planning, borrowing from others is essential. You often only have the courage to commit to an ambitious goal when you see someone like you do it first. Many times you only seriously consider a new possibility for where you could live, the work you could do, the people you could meet, or the things you could learn when you see someone else going after it themselves.
The curriculum will include not only the call recordings, but dozens of templates, checklists, and examples from our collection of inspiring reviews, organized in a step-by-step flow. This curriculum will be available to you indefinitely for review, reference, and of course, next year's review!
You will end The Annual Review with a sense of completion, clarity, and determination for 2021. You'll start the new year with the cards stacked in your favor. You'll still need to do the work, but this time with many of the obstacles and distractions removed from your path.
If you have any questions, please email us at [email protected].
Frequently Asked Questions
What's included in this workshop?
Here's what's included with your enrollment: four live sessions for designing and completing your year-end review in a weekend, public accountability and feedback from a group of like-minded peers, lifetime access to a private Slack channel for participants, live chat support from Tiago and David over two days, an Annual Review Guide including examples, templates, checklists, and case studies of others' reviews, and lifetime access to the online curriculum with all call recordings and shared resources
How long do I have access to the workshop?
You will have access to all the call recordings and shared resources indefinitely on the Teachable platform.
What if I am unhappy with the workshop?
If you are unsatisfied with your purchase, contact us within 30 days and we will give you a full refund.
How will the live calls be conducted?
The workshop will be delivered online using the Zoom video-conferencing software, so you can participate no matter where you live. Each call will be uploaded to an online curriculum shortly after it finishes, so you can follow along even if you can't attend live.
How will I get support?
We'll be available on a private Slack channel the whole weekend for anything you need support with. This channel will be accessible only to workshop participants so you have some privacy as you share your reflections and declare your goals for public accountability. The Slack channel will remain open indefinitely so you can come back and report on your progress throughout the year. We'll also facilitate monthly meetings of ARC, the Annual Review Collective, all year long as an accountability structure.
What's the benefit of doing a year-end review as a group?
By completing this experience together as a group, we are able to share what we learn, and draw on each others' ideas. We'll encourage everyone participating to share bits and pieces of what they discover in real time, so you can borrow the parts that inspire or resonate with you.
This course is closed for enrollment.